Als das Farzi Café vor nicht allzu langer Zeit antrat, um die Gastronomie-Szene in Bangalore aufzumischen, stellten Sie einen Mix von klassischen Gerichten ihrer Restaurant-Niederlassungen aus ganz Indien zusammen; das kam gut an bei den Gästen. Umso überraschter war ich, als das Farzi Café kaum ein Jahr nach Eröffnung eine überarbeitete Speisekarte vorlegte. Aber warum auch nicht, eine gewisse Portion Eigenwilligkeit und Unerwartetes passt zum Farzi Team.
Ich wurde vor ein paar Wochen eingeladen, um das neue Menü auszuprobieren. Natürlich, man erkennt noch Elemente der alten Speisekarte, aber es sind eine ganze Menge lokaler Aromen und Spezialitäten hinzugekommen. Die Restaurant-Filiale Bangalore des Farzi Cafés hat nun einen unverkennbar lokalen Charakter.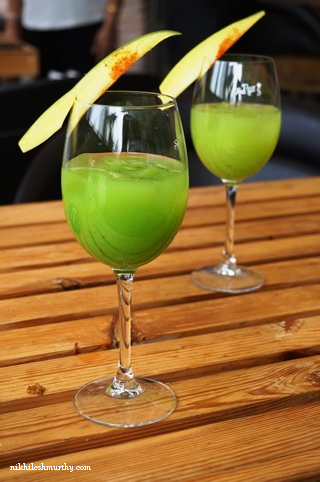 Litchi Panna Desire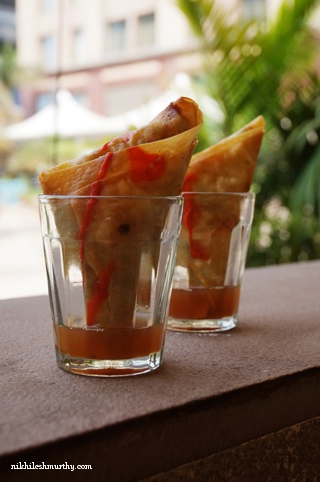 Patty Samosa with Sulemaini Chai
Das erste Gericht, das meinen Chai Paani Cocktail begleitete (einer meiner Favoriten), war der Dhokla und Farsaan Salat – ein herrliches Gericht nach dem Vorbild des klassischen Dhokla, begleitet von knusprigen Waffeln und Chutneys. (Dhokla ist übrigens ein vegetarisches Gericht aus dem indischen Bundesstaat Gujarat. Es wird mit fermentiertem Teig aus Reis und Kichererbsen zubereitet.) Hierauf folge ein Daal Moth Chaat. (Anm. d. Red.: Chat bezeichnet einen herzhaften Snack, der typischerweise an Straßenständen verkauft wird, mit Ursprung im indischen Bundesstaat Uttar Pradesh) Gegenüber Chaats in gehobenen Restaurants habe ich grundsätzlich meine Vorbehalte. Aber die typisch-eigenwillige Art des Farzi Café gibt dem Gericht hier einen eigenständigen Charakter und damit seine Berechtigung, zumal es ein perfektes Sommer-Gericht ist: Eine ausgewogene, kühlende Kombination aus Süße und Würze mit Granatapfel und grünen Äpfeln – mein Freund und ich haben keinen einzigen Krümel übrig gelassen.
Wir setzten die Vorspeisen fort mit sowohl einer vegetarischen als auch einer Hühnchen-Variante der klassischen Patty-Samosa (Anm. d. Red.: Samosas sind Teigtaschen gefüllt mit diversen Zutaten), die mit einem Dip serviert wurde, der von Sulaimani-Tee (Schwarzer Tee mit Kardamom und Limone) inspiriert war. Der Purist in mir konnte sich allerdings mit dieser Fusion-Variante nicht anfreunden. Wenn ich das näher begründen müsste, würde ich sagen, dass die Sulaimani-Aromen nur halbherzig Eingang in den Dip gefunden haben. Im Übrigen sagte mir die vegetarische Variante deutlich besser zu als die Variante mit Huhn. Nun folgt ein Teller (das ist nicht ganz zutreffend, es handelte sich mehr um ein ausgehöhltes Nudelholz) mit saftigem Guntur Chilli Chicken. Dieses Gericht hat das Potential zum Klassiker: Würziges, zartes Hühnchenfleisch mit meinen Lieblingsgewürzen aus der südindischen Küche, dazu in einem fantastischen Pairing ein gekühltes Lagerbier. Ich ziehe den Hut vor dem Küchen-Team des Farzi Café. Toll.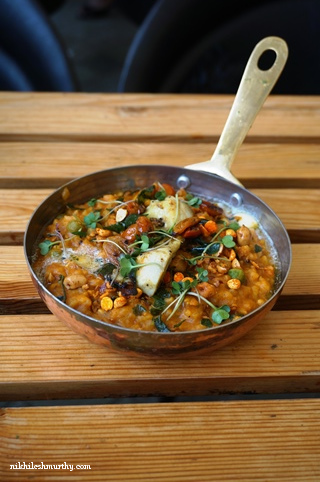 BBB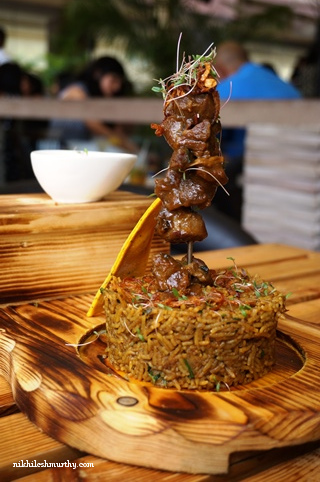 Shwarma Biryani

Tandoori Ras Malai
Nach dem Hühnchen: Das Gericht Sion Prawn Koliwada, in Teig fritierte Garnelen, serviert mit Garnelen Waffeln. Der Teig war etwas dick geraten, aber ich genoss dennoch die perfekt gegarten, knusprigen Garnelen im Innern. Warnung: Die Garnelen Waffeln haben Suchtpotential! Als Getränk dazu empfehle ich ein frisch gezapftes Hefeweizen.
Nach den beschriebenen Höhepunkten nun die zwei Tiefpunkte an diesem Nachmittag, der ansonsten mein Herz als Gourmet höher schlagen ließ. Bei dem Kothimbir Vadi Papaya Salat Tikka hatte ich vor allem mit der Textur zu kämpfen, die mich an fritierfähiges Kotelett aus der Gefriertruhe erinnerte, das noch nicht ganz aufgetaut war. Das zweite Gericht war das Soja-Chop, wo die Würzung noch ausgewogener und dosierter gestaltet werden muss, denn meinen Gaumen erreichte nicht viel mehr als Gewürze.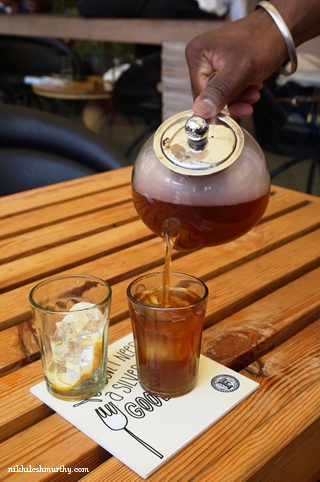 Chai Paani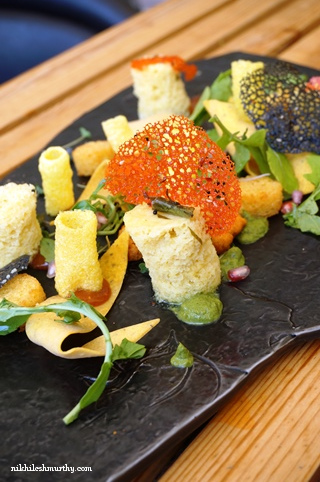 Dhokla and Farsaan
Wie ging es weiter? Mit den Iyengar Bakery Style Toasties. Ich bin noch immer unschlüssig, ob ich dieses Gericht mag oder nicht. Das Gericht nimmt ein Hühnchen Sukka, ein südindischer Klassiker, und kombiniert es mit dem klassischen Masala Sandwich, die man in den Iyengar Bäckereien findet und ein Favorit meiner Kindheit war. (Iyengar ist eine Brahmanen-Kaste mit Ursprung in Tamil Nadu, in einer Iyengar Bäckerei findet man immer hervorragende Backwaren.) Was macht mich unschlüssig? Zwar stimmen Geschmack und Textur des Gerichts, ausgewogen gewürzt mit knusprigem Teig, aber es fehlt der Kick.
Wir kommen nun zum Hauptgericht. Wir starteten mit Charred Artichokes, Cherry Tomato Bisi Bele Bhaath. Für diejenigen Leser, die beim Lesen von Bise Bele Bhaath (BBB) die Augen verdrehen: Genau das habe ich auch gemacht, als das Gericht serviert wurde. Was mich aber an diesem ganz und gar Farzi-untypischen Gericht positiv überrascht hat, war eine beeindruckende Vielfalt von Geschmackserlebnissen. Diese Version des BBB basierte auf Arborio-Reis (besondere Eignung für Risotto, mit hohem Gehalt an Stärke, nur schwach poliert) mit einer sündhaften Portion an Käse, dazu Gemüse. Dieses Gericht der Farzi-Fusionküche wurde für mich zum unvergesslichsten Erlebnis des Nachmittags. Die Meinungen zu diesem Gericht gehen meines Wissens nach auseinander, aber für mich ist das Gericht ein Höhepunkt.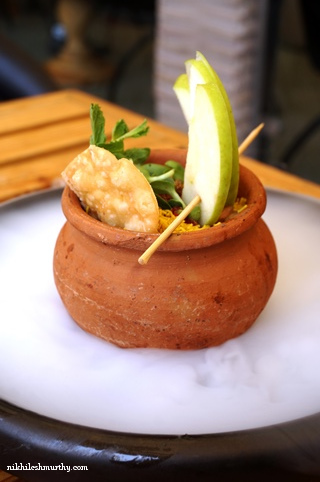 Daal Moth Chaat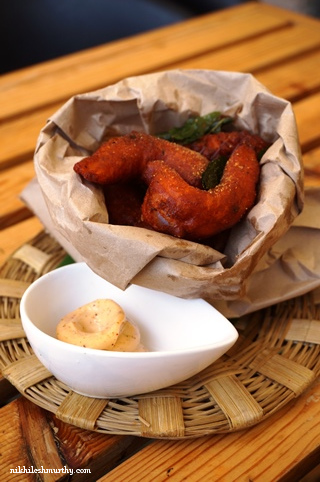 Sion Prawn Koliwada
Das zweite Hauptgericht war das Shwarma Biryani. Ganz anders als beim typischen Biryani wurden hier Reis und Fleisch separat serviert. Diese Biryani Variation war wunderbar ausgewogen, mit saftigem Fleisch und einer überzeugenden Gewürzmischung. Dazu passend wurde Popadam gereicht. Toll. Aber die Farzi-Variante des BBB blieb dennoch klarer Sieger nach Geschmackspunkten beim Hauptgang.
Mit wohlgefülltem Magen und glänzend vor Stolz (eigentlich glühend von konzentriertem Essen) ließen mein Freund und ich uns schwer in die Stühle sinken und gönnten uns einige Gläser des Litchi Panna Desire – ein perfektes Sommergetränk mit Litchi und Aam Panna (grüne Mango). Nach einer Pause widmeten wir uns mit frischer Neugier und unbeirrbarem Appetit dem Dessert.
Zwei Desserts wurden serviert, das erste war das Tandoori Ras Malai, nämlich geräucherte frische Cheena (geronnene Milch), aromatisierter Shrikand (Shkrikand wird aus abgetropftem Joghurt gemacht, mit Zucker, Kardamom, Saffran sowie weiteren Gewürzen) – ein Dessert, das den klassischen Ras Malai in Kondensmilch und Sahne einweicht, mit etwas Safran überzogen. Hinzu kam noch eine Portion Mandel-Nougat. Das Dessert war relativ einfach, aber befriedigend. Mein Favorit unter den Desserts war allerdings ein Dessert (dessen Name mir leider entfallen ist) mit Zutaten für die ideale Sommersüßspeise: Nüsse, Beeren, Erdbeeren, Sahne und so vielen weiteren wundervollen Ingredienzen. Am Ende legten wir die Löffel zur Seite und schlenzten noch die letzten Krümel aus dem Glas.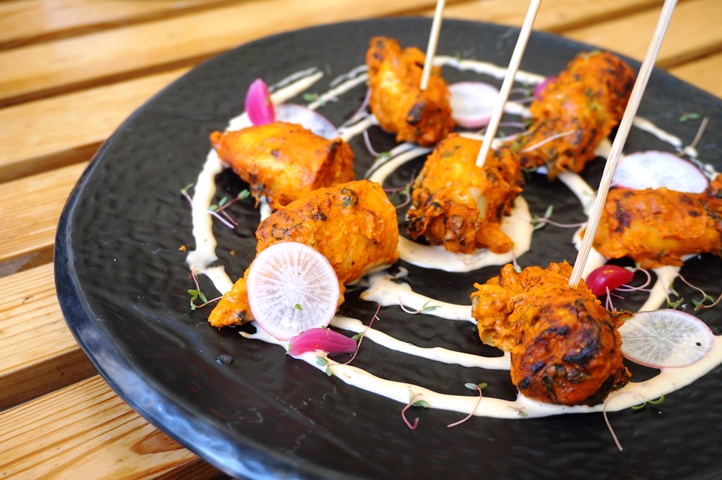 Iyengar Bakery Toasties

Guntur Chilli Chicken
Ich zolle meinen Respekt gegenüber Herrn Zorawar Kalra und dem Küchenchef Sombir Choudhary für eine Speisekarte, die dem Anspruch auf Eigenwilligkeit des Farzi Cafés gerecht wird und gleichzeitig die aromatische Vielfalt Südindiens abbildet.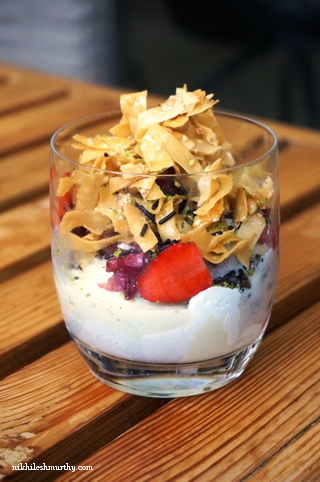 Diesen Artikel finden Sie im englischen Original unter:
Bombay Brasserie comes to Bengaluru – Nikhilesh Murthy
Übersetzung: Sebastian Zang.